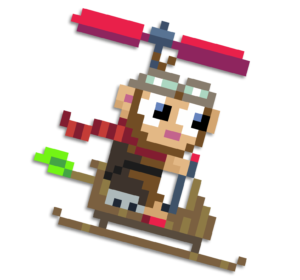 Pedal. Tilt. Don't crash!
Stay airborne by pedaling and tilting in this challenging physics flying game!
Um, what's a Chimp Copter?
Help Chimpy become the pilot she's always dreamed of with the help of her homemade pedal-copter! Set new flight distance records, earn new and unique copters, and see what dangers await you as you fly farther from home.
Chimp Copter features challenging physics-based gameplay using tilt controls and screen tapping pedals that will have you and your friends laughing (and yelling) over and over… and over.
BEST OF ALL,
IT'S FREE TO PLAY!